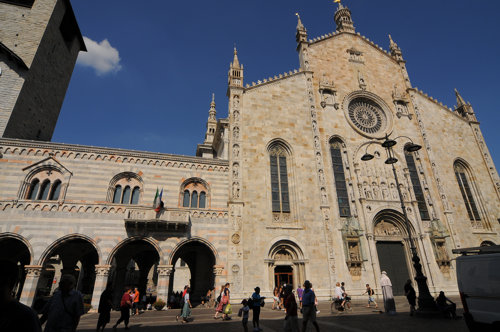 The cathedral is the result of more than four centuries of working; the construction began in 1396 on the ancient Romanesque basilica of Santa Maria Maggiore. Looking carefully at the structure it is easy to recognize the different styles: from the marble gothic facade to the dome dated 1740, the year in which the church was finished.
Many artists worked in the church: for example, the architect Lorenzo degli Spazzi, to him was initially assigned the direction of the building site, then he was replaced by Pietro da Breggia and Florio da BontÓ.
The works went on, with the realization of the rose window on the facade, by Luchino Scarabota, Amuzio da Lugano, Tommaso Rodari da Maroggia who had the responsibility of the building site from 1487 to 1526. The beautifulr works of the facade, the flanks and the interior, and the model of the absidale part, then modified by Cristoforo Solari, are all by Rodari.

The right apse was erected under the direction of Francisco Maria Richino (1627-1633), the left one was begun from Carl Buzzi (1653).
The complete realization of the facade took more than fifty years: it began in 1447 and finished in 1498. The great portal is placed side by side from two aedicules with the statues of Plinio il Vecchio and Plinio il Giovane: the famous men of letters and civil employees of the roman empire, born in the first century a.d. in Como, have been placed in an honour position, although they were pagan.

The two lateral doors on the flanks are supposed to be the masterpiece of the brothers Tommaso and Jacopo Rodari, even though in the realization of the southern door Bramante maybe took part; the northern door, richly decorated, is said ôof the Frogö from a sculpture crippled in 1912. The dome, modified in 1773, has been brought back to the original shapes after have been damaged in the 1935 from a fire. The interior has a Latin cross shape, with three naves, divided by cross-shaped columns.

A rich complex of artistic works stands in the church; tapestries of the XVI and XVII century, made in Ferrara, Florence and Anversa. Sixteenth-century paintings, by Bernardino Luini and Gaudenzio Ferrari; a wooden altar of first the 1500's, dedicated to Sant' Abbondio, baroque stuccoworks by Francesco and Agostino Silva and nineteenth-century stained-glass windows by Giuseppe and Pompeo Bertini.

From the church of Santa Maria Maggiore come the two lions (end of XI century - beginning of the XII) that hold the fonts, the episcopal sarcophagus and the altar of Campionese school, recently replaced in the presbytery.